Electric Golf Carts Ostego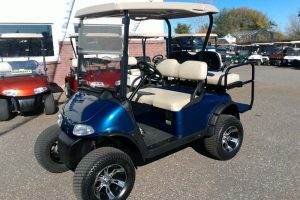 In the market for electric golf carts in the Ostego area? Look no further than RM Golf Carts! We sell new and used golf carts and we can even customize electric golf carts to meet your unique needs. We even rent out electric golf carts too! So, whether you want to buy a new custom golf cart or rent one, we have got you covered!
We even service and repair all brands of golf carts, and we can fix axels, bearings, fuel pumps and more. And we carry batteries for electric golf carts too. And, we provide all you need including accessories and parts for all of your electric golf cart needs.
We carry some of the best names in electric golf carts on the market, including Yamaha and Club Car.
So stop by RM Golf Carts today and see all of the services and electric golf carts we have to offer. We can answer any questions you might have and even recommend the right golf cart for your unique needs.
Benefits of Electric Golf Carts
There are so many reasons to love electric golf carts! For one, you generally don't need to get them serviced at all. The battery will need to be replaced every couple of years and that is usually about it. They are also the environmentally friendly option. Because they run on electricity, they do not emit any toxic fumes into the air. They are economical to operate and are a great choice for those looking for transportation around a campsite or golf course.
Electric golf carts are great for a variety of terrain and occasions. Rent one to get around the compound or vacation property more easily, have one customized for the golf team, or buy a refurbished golf cart to hop around your retirement community. The possibilities are endless! There are so many reasons to look into the rental or purchase of an electric golf cart, and RM Golf Carts is the place to find them.
As a family-owned business, we treat customer service as our top priority. We want to be sure you are fully happy and satisfied with our electric golf carts and all we have to offer. So, don't hesitate any longer. Contact us or stop by our shop and see all of the electric golf carts we have in stock and to learn more about customization and even more reasons you should consider electric golf carts.
More About Electric Golf Carts
Are you interested in learning more about electric golf carts in Ostego? Call RM Golf Carts at 763-323-1970 or you can Contact Us.